Sometimes you may be on-the-go and don't have time to check your Redbooth account, or perhaps you prefer to be reminded of things by email. If so, then Redbooth can keep you notified of any relevant updates with email notifications.
Access Your Email Notifications
Click on My profile settings from your avatar in the top right of the screen.
Click on the Email Notifications tab.
You'll see options for newsletter and feature, and notification settings for each Organization of which you are a member.
Activity Updates
Select the organizations you wish to get instant notifications from.
Select whether you want to be notified on all tasks that you follow or just the ones you are @mentioned in.

Which type of emails to receive
Newsletter
Every once in a while we email our newsletter named Redbooth Roundup. This is the best way to keep up with new features and best practices using Redbooth. Additionally, we also feature customers and send invitations to special webinars and events.
Features
If you are a new customer, you automatically get this series of emails for you Business Preview. When you upgrade, we'll only send announcements for new features or improvements to your plan.
Chat Notifications
Redbooth accounts with chat enabled can receive instant email notifications of incoming chats.
Daily Task Reminders
This is the most popular email we send. It's a daily summary of Overdue, Upcoming and Urgent tasks that are assigned to you. We recommend receiving this email if you are often assigned tasks in Redbooth.

This email notification is not available for external users.
Workspace Digest
For users and Admins who want a full picture of the projects they manage, the workspace emails are highly valuable. Receive a summary once a day, once or week, or customize your settings for each of your workspaces.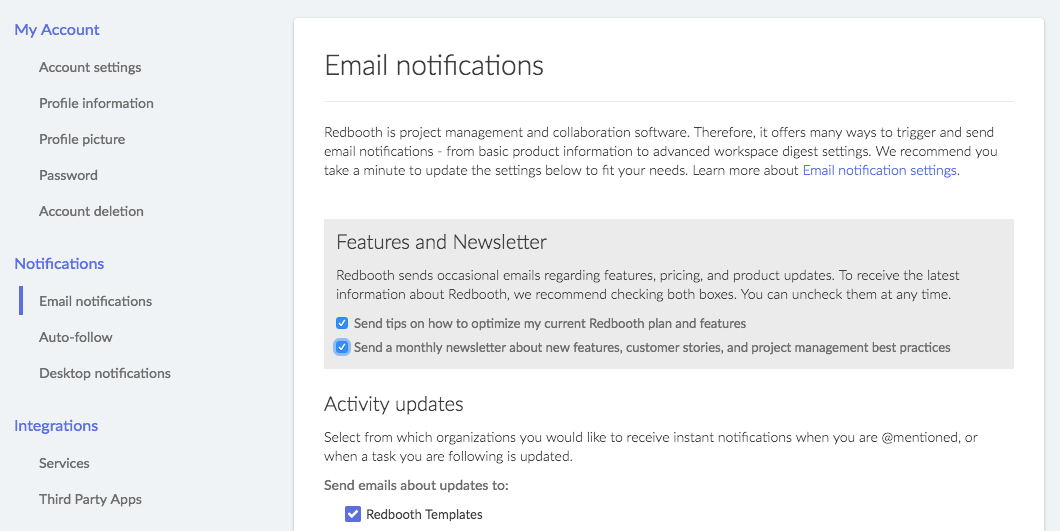 How to select emails
Ensure you have the blue box checked to receive email notifications.
Click the blue Save Changes button at the bottom.
To turn off email notifications just untick the blue box as shown above.
To receive the daily task reminder you must meet the following conditions:
At least 1 task assigned to you is due within the next 7 days
At least one task has been assigned to you in the previous 30 days or a task is less than 7 days overdue
You have logged in to Redbooth in the past 7 days
Reply to email notifications
If you want to reply directly to a notification from your email inbox keep the following in mind:
Write your answer over the reply line and it will post your answer in Redbooth

All followers of that task or conversation will be notified

Any attachments added to your email will be posted with your reply
If you begin your email with a #command, you can manage its status from email

To assign the task to the member @username use #username

To mark the task as resolved use #resolve or #resolved