Workspaces are where you and your team collaborate on projects. Take a look below to get an insight into the different features that make up a Redbooth workspace.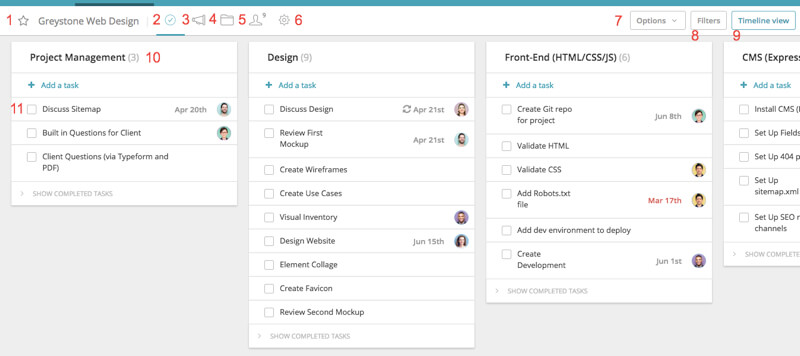 1. This icon is for favorite workspaces. Once marked as a favorite the star turns yellow. Your favorite workspaces appear at the top of the dropdown menu of workspaces.
2. This is the task icon and is always your default view when entering a workspace. Once here, you can create and assign tasks as well as browse your task lists.
3. This is the conversation tab. Conversations are great for announcements and interacting with your team.
4. This is the workspace files tab. All files uploaded to tasks are automatically stored here. Upload and share files within the workspace. You can create folders and export your files from here.
5. View all of the members of the workspace by clicking here. You can also add and remove members from a workspace from this tab.
If you wish to view or add / delete members from your organization, please navigate to your organization settings.
6. Access the workspace settings from here. You can choose your personal workspace color as well as getting the unique workspace email address. This allows you to create new conversations and tasks via email.
7. Use this tab to import tasks or to copy and print the workspace. Pro and Pro Business users can also export the workspace tasks.
8. The workspace filters allow you to display tasks based on the assignee and due date. Search by keywords if you want a more precise result.
9. The Timeline view allows you to see your workspace as a Gantt chart. Use this view to get a visual feel for the progress of your project.
10. A task list. Create them to group together related tasks. They help to keep your workspace organized.
11. A task with its due date and assignee visible.