We introduced the Workspace Activity feature to give you a centralized place to collaborate with your team for each specific workspace.
To access your Workspace Activity, click on Activity at the top right corner of a workspace view to expand the side panel. Expand the panel to a width of your preference by dragging the left border to the left. You can easily close the panel by clicking the [x] in the upper right, dragging the left border all the way right, or by double clicking anywhere in the left border.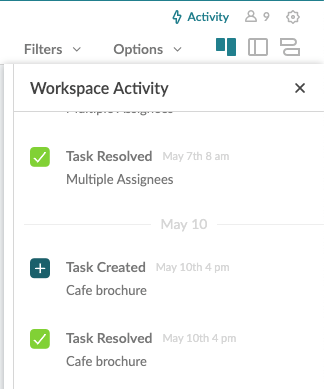 Workspace activity is dedicated to tracking actions made inside the workspace. Think of it as a feed with the workspace's history. The following actions are added to your Workspace Activity:
members joined
members left
tasks created
tasks resolved
Additionally, you and your teammates can chat inside Workspace Activity to stay in sync on the projects tracked in the workspace. Mentioning @username will send a notification to that user. Use this when you want to notify the user about an action or message in the feed.
Workspace Activity also provides you the ability to upload files to the workspace. Click the paperclip icon on the bottom right of Workspace Activity to open the file upload modal. Select the file you wish to add, and this file will be added to the workspace files (accessible by navigating to the files section of the workspace).